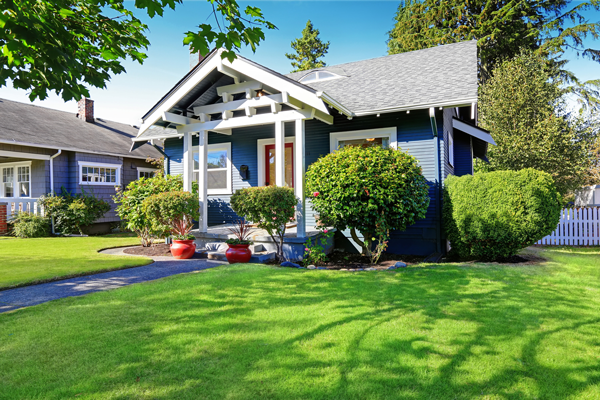 When you put your home on the market, first impressions are everything. A photo of the exterior is going to be the first image shown online, and the outside is what people are going to judge your home on when they drive by to check it out. No matter how great your house is on the inside, many people won't walk through the front door to find out if it's lacking on the outside. Fortunately, there are some simple – and some more involved – things you can do to boost your home's curb appeal and get it ready to sell.
1. Attention to Detail
The first thing to do it take a good look at your home and yard's condition. Start by repairing anything that needs it, from loose deck boards to that rotting windowsill you've been ignoring. These defects not only detract from the home's curb appeal, they are perceived by home buyers as signs that the house has not been maintained.
Once the repairs are made, give everything a good cleaning. Vinyl siding can be washed with a hose. Windows should be washed inside and out. Power wash your sidewalks and driveway, and get your roof and gutters cleaned. Your house will be looking like new in no time!
2. Freshen Up Your Landscaping
Landscaping defines your home's style as much as the house itself. It can frame your home's best qualities and camouflage any shortcomings. Start simple: lush, green grass that is regularly maintained, weeded garden beds and fresh mulch go a long way in improving the exterior appearance of your home.
Other tips for upping the "wow" factor with your landscaping:
Get rid of what's not working: Overgrown bushes, sickly looking plants, and unattractive trees will detract from your home's exterior. Don't be afraid to trim, move or remove these problem plantings.
Create a color palette: While you don't want everything in the yard to be the same color, don't go crazy with competing colors. Choose a color scheme with complementary colors and one contrasting color sprinkled in to really make your landscaping pop.
Mix it up: If you're adding to your landscaping, plant a combination of fast-growing and slow-growing plants. You'll create immediate visual interest with the fast-growing plants while the slower growing ones fill in over time.
Hardscape details: Remember that there's more to your landscape than just the plants. Borders, rocks, and walkways add interest and detail. Be sure that you choose complimentary materials that go well together, as well as with the plants in your yard.
Outside help: Even if you are an avid do-it-yourselfer, there's a lot to be said for professional advice. You could save yourself a lot of time, money, and aggravation by taking pointers from a pro. Try your local nursery, garden shop, and hardware stores for guidance.
3. Replace or Repaint Your Entry Door
The entryway to your home is a focal point that you want to be welcoming and attractive. It can be as simple as a fresh coat of paint. Black creates a timeless look where red is bold and dramatic. If the budget allows, consider replacing the door entirely with an updated style the compliments your home.
4. Dress Up Your Windows
If your home's windows are old, consider replacing them with new, energy-efficient windows. Not only will they appeal to buyers, they'll help you save on energy costs in the meantime.
If your windows are good, consider adding shutters or re-painting existing shutters. Window boxes full of flowers add instant beauty and charm.
Above all else, wash them! No amount of dressing up can make up for dirty glass.
5. It's the Little Things
There are plenty of smaller projects you can do that pack a big punch. Consider:
Upgrading your front door hardware.
Replacing the entryway light or repainting the existing one.
Adding solar lights along walkways.
Replacing your house numbers with big, bold black numbers.
Painting your mailbox or installing a new one.
Adding large potted plants on either side of your driveway.
Edging your sidewalk with pavers or stone.
6. Big Improvements
If time and budget allow, there are a few big projects that can really transform the look of your home and provide a high return on investment. Both roof replacement and new siding are improvements that will boost resale value and make your home look new again. A fresh coat of exterior paint adds instant appeal as well.
Replacing an old, cracked driveway or installing a new garage door can vastly improve your home's curb appeal. Replacing or updating your porch can make your home feel more welcoming.
No matter what your budget is, there are plenty of ways to boost your home's curb appeal. The time and effort you put in to improving your home's exterior will pay off with immediate results.